Welcome to the greatest plant shopping experience on the web
Amaryllis, a plant that is simply beautiful
These waxed amaryllis bulbs are specially selected and have enough energy to grow and bloom without water. The bulbs are covered with a wax layer, which gives the bulb a modern and fashionable look, while keeping all of the necessary nutrients inside.
Basics
| | |
| --- | --- |
| Zones | 5+ |
| Flowering season(s) | |
| Sunlight | |
| Soil type | |
| Height/Spread | |
| Flower Color | |
| Bloom Time | |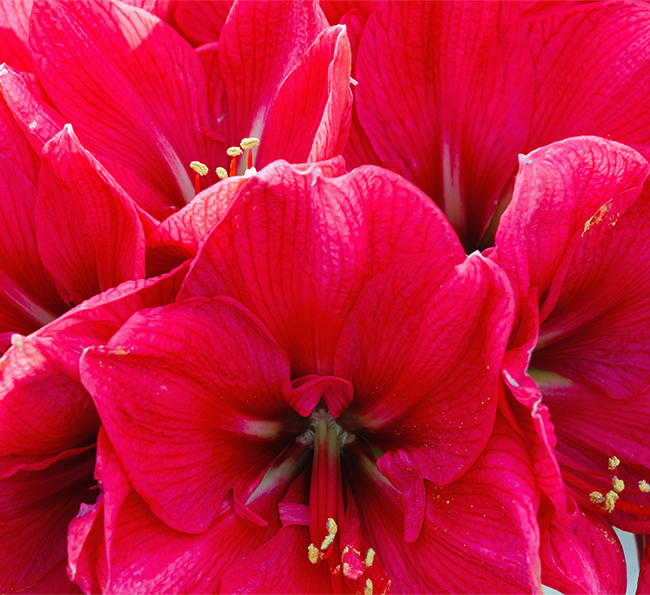 How to plant & care for Amaryllis

WATER:
No watering necessary!

EXPOSURE:
Waxed amaryllis bulbs are easy to care for! Place them flat in a well-lit room and avoid direct sunlight. To ensure your amaryllis grows straight, rotate it every few days.

PRUNING:
When the flowers are wilting and becoming dry you should cut the stem at the base. There is a chance that more flower stems will grow. Wait for 3-4 weeks if stems are growing. If no extra stems appear, the amaryllis has finished flowering.

PROPAGATION:
After the flowering period you can remove the wax layer and plant the amaryllis bulb into soil. Be aware that it might take a couple of months until the plant starts growing again.

Diseases often seen on Amaryllis
Root rot and fungus can affect bulbs if they are kept too wet.
Copyright © 2021 TheThreeCompany. All rights reserved.