Take a deep breath of fresh, clean air knowing this herb combo will work hard to purify the air around you. These live aromatic herbs are perfect for both the indoors & outdoors. Bring some health & beauty inside with our aromatic live herbs, or start your very own herb garden outside! This combo is perfect for its many aromatic health benefits, as well as a great addition to any fresh & healthy meal. These herbs are tailor made for planting in a container (maybe even place them in one of our self-watering planters), & they are also great by themselves on your counter-top or windowsill.
NATURAL HEALTH BOOSTER:
Catnip is a perennial herb that usually attracts cats with its aroma and taste. Many cats can get excited, enthusiastic or aroused through the smell of catnip.
REDUCE STRESS:
Often Catnip is used to reduce the stress level of a cat. When moving to a new house or during travelling Catnip can be used as sedative to calm your cat and prevent anxieties.
HOW TO USE:
Catnip is a mild herb. Often already the smell and aroma stimulates cats' energy level. You can crush the leaves and rub the aroma onto the toy or the scratching post.
FRESH FROM THE GREENHOUSE:
We strive for best quality. Our plants are directly shipped from the greenhouse to our customers.
Support Cat's Health:
If a cat is overweight and or lazy, Catnip can help to boost the cat's activity. The cat might be stimulated to move and play more, and to finally loose weight in a natural
Giving Back:
Helping others is extremely important to us, so 25% of all proceeds are giving to support various nonprofits that are dear to our hearts.
We are confident that you will love your plants. Contact us, if you have any questions about your order or have any issues with your plants.
Herbs, A plant that is simply beautiful
Herbs make just about any dish even better, and for good reason. Not only do we love the fragrance and flavor that fresh herbs provide, but we love how easy they are to grow and take care for. Some h
Basics:
| | |
| --- | --- |
| Zones | 8-10 |
| Flowering season(s) | Spring,Summer |
| Sunlight | Full sun |
| Soil type | Well draining soil |
| Height/Spread | 12" Tall by 6" Wide |
| Flower Color | Green |
| Bloom Time | Spring |
How to plant & care for Herbs
The United States Department of Agriculture (USDA) has devised a system to provide gardeners with a basic guide to plant hardiness – how much winter cold a plant can withstand. The Hardiness Zone Map system divides the United States and Canada into numbered zones based on lowest average winter temperature. Even within a zone, different micro-climates exist, such as large urban areas which may be warmer or land situated at different elevations.

How Hardy Are Chrysanthemums?: Zones 8-10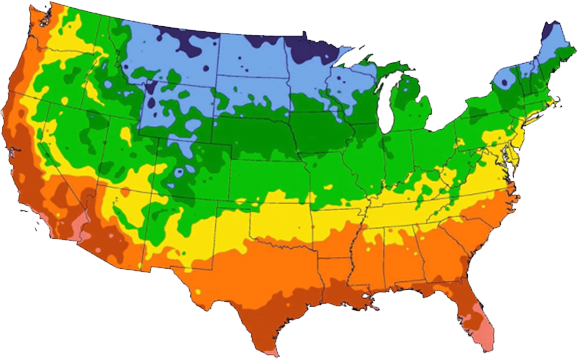 | ZONE | AVERAGE COLDEST TEMPS |
| --- | --- |
| 1 | below -50 °F |
| 2 | -50 °F to -40 °F |
| 3 | -40 °F to -30 °F |
| 4 | -30 °F to -20 °F |
| 5 | -20 °F to -10 °F |
| 6 | -10 °F to 0 °F |
| 7 | 0 °F to 10 °F |
| 8 | 10 °F to 20 °F |
| 9 | 20 °F to 30 °F |
| 10 | 30 °F to 40 °F |
| 11 | above 40 °F |
...
...