What better way to give herb gardening a try, whether indoors or outdoors, than with our 6 herb combo. Containing six of our favorite do it all herbs, you can't go wrong with this mix of eucalyptus rosemary, mint & lemon balm. The health benefits alone are seemingly endless, not to mention the amazing fragrance. Spread them around your windowsills, or combine them all into one great herb garden or combo pot!
BENEFITS:
These herbs each have their own individual traits and benefits that are worth making a part of your plant family.
FUN FACT:
Herbs have been used for thousands of years to add flavor to meals, as medicine and as a preservative.
All Seasons:
In spring and summer time you can keep the herbs outdoor en harvest weekly. In the winter if you want to go on with harvesting you should take the herbs inside to a rather cool, bright spot.
PRODUCT:
All our plants are shipped fresh directly from our greenhouse to you!
GIVING BACK:
Giving back is important to us, so 25% of all profits go to supporting various organizations!
Contact:
We are confident that you will love your plants. Contact us if you have any questions about your order or have any issues with your plants.
The United States Department of Agriculture (USDA) has devised a system to provide gardeners with a basic guide to plant hardiness – how much winter cold a plant can withstand. The Hardiness Zone Map system divides the United States and Canada into numbered zones based on lowest average winter temperature. Even within a zone, different micro-climates exist, such as large urban areas which may be warmer or land situated at different elevations.

How Hardy Are These Plants?: Zones 5-9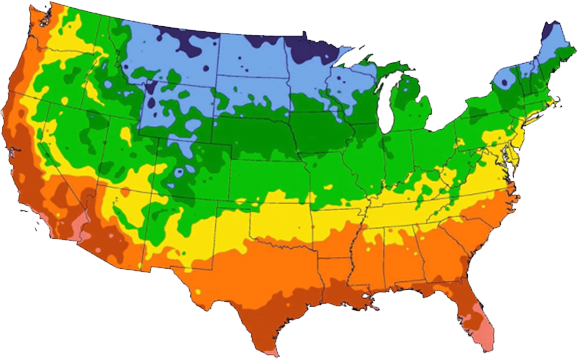 | ZONE | AVERAGE COLDEST TEMPS |
| --- | --- |
| 1 | below -50 °F |
| 2 | -50 °F to -40 °F |
| 3 | -40 °F to -30 °F |
| 4 | -30 °F to -20 °F |
| 5 | -20 °F to -10 °F |
| 6 | -10 °F to 0 °F |
| 7 | 0 °F to 10 °F |
| 8 | 10 °F to 20 °F |
| 9 | 20 °F to 30 °F |
| 10 | 30 °F to 40 °F |
| 11 | above 40 °F |
...
...