Christmas cacti are some of the most beautiful Holiday flowers. They bloom just in time for the holidays (hence their name), and they're pretty stunning too. The hanging branches, which are made up of flat, glossy green segments, can grow to up to 3 feet long. Flowers in red, white, yellow, pink, or purple appear at the tips of these branches and measure up to 3 inches long with several tiers of petals. Each bloom lasts for several days, and the entire flowering period of most cultivars will span several weeks.
SPRING COLOR:
These bright orange daisies are sure to bring joy to whomever would visit your garden or home.
COLOR:
Gerbera daisies have long-lasting 3- to 4-inch flowers that come in numerous shades of yellow, white, pink, red, orange, lavender, salmon, and bicolored. The center floral disk can range from
FUN FACT:
Gerbera daisies are native to South Africa, being the fifth most popular flower in the world. Gerberas mean happiness to all who gaze upon them
CARE:
Water in the morning so the soil can dry throughout the day. Keep in an area with full direct sunlight. Use micronutrient-rich plant fertilizer. Be sure to trim the plant after the bloom starts
Product:
All our plants are shipped fresh directly from our greenhouse to you!
Giving Back:
Giving back is important to us, so 25% of all profits go to supporting various organizations!
We are confident that you will love your plants. Contact us, if you have any questions about your order or have any issues with your plants.
The United States Department of Agriculture (USDA) has devised a system to provide gardeners with a basic guide to plant hardiness – how much winter cold a plant can withstand. The Hardiness Zone Map system divides the United States and Canada into numbered zones based on lowest average winter temperature. Even within a zone, different micro-climates exist, such as large urban areas which may be warmer or land situated at different elevations.

How Hardy Are Chrysanthemums?: Zones 8-10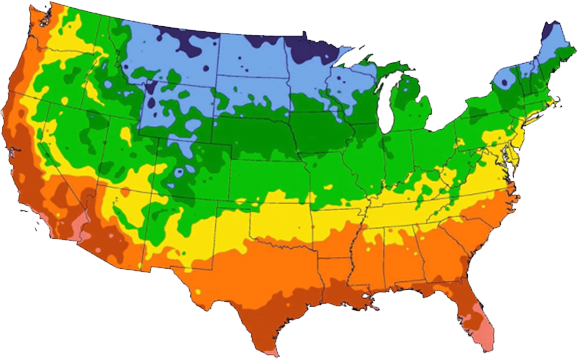 | ZONE | AVERAGE COLDEST TEMPS |
| --- | --- |
| 1 | below -50 °F |
| 2 | -50 °F to -40 °F |
| 3 | -40 °F to -30 °F |
| 4 | -30 °F to -20 °F |
| 5 | -20 °F to -10 °F |
| 6 | -10 °F to 0 °F |
| 7 | 0 °F to 10 °F |
| 8 | 10 °F to 20 °F |
| 9 | 20 °F to 30 °F |
| 10 | 30 °F to 40 °F |
| 11 | above 40 °F |
...
...