These lovely New Guinea Impatiens are a great addition to your Spring garden. Use them to line the walkway to your home or add some color around your garden with their beautiful heart-shaped petals. These plants are easy to care for so they are perfect for any beginner gardeners.
SPRING FLOWERS:
These gorgeous New Guinea Impatiens are perfect for beginners. They are low maintenance and their heart-shaped petals look beautiful in any garden.
GROWTH:
New Guinea Impatiens grow quite quickly so you will be able to enjoy them all season long. At maturity, they can grow up to 18 inches tall, with a spread of about 9 inches.
CARE:
New Guinea Impatiens prefer a location with full sun in the morning and shade throughout the rest of the day. They will grow best in slightly acidic, well-draining soil that has been mixed with organic matter. Water thoroughly upon planting and then water regularly to keep them moist, but not overly wet as this will cause rotting.
FUN FACT:
New Guinea Impatiens are also referred to as "Touch-Me-Nots" because when you touch them, their seeds shoot out up to 20ft away!
LIVE PLANTS:
Our plants are grown exclusively for Deep Roots and The Three Company, shipped fresh directly from our greenhouse to you!
The United States Department of Agriculture (USDA) has devised a system to provide gardeners with a basic guide to plant hardiness – how much winter cold a plant can withstand. The Hardiness Zone Map system divides the United States and Canada into numbered zones based on lowest average winter temperature. Even within a zone, different micro-climates exist, such as large urban areas which may be warmer or land situated at different elevations.

How Hardy Are These Plants?: Zones 10-12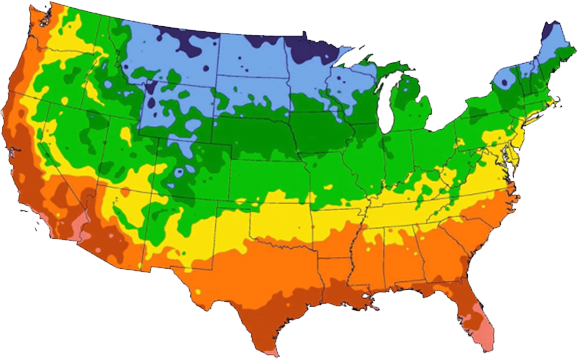 | ZONE | AVERAGE COLDEST TEMPS |
| --- | --- |
| 1 | below -50 °F |
| 2 | -50 °F to -40 °F |
| 3 | -40 °F to -30 °F |
| 4 | -30 °F to -20 °F |
| 5 | -20 °F to -10 °F |
| 6 | -10 °F to 0 °F |
| 7 | 0 °F to 10 °F |
| 8 | 10 °F to 20 °F |
| 9 | 20 °F to 30 °F |
| 10 | 30 °F to 40 °F |
| 11 | above 40 °F |
...
...