These gorgeous hostas are the perfect addition to your flower garden, deck, planter, or even indoor windowsill. Don't miss out on this amazing opportunity to Impress your visitors with a beautiful Hosta outdoor display, as a centerpiece in a combo container, or even decorating your tabletops. You will not be disappointed with these healthy & beautiful hostas, ready to make your garden even more beautiful!
SHADE PLANTS:
This blue-green hosta is eye-catching in it's presentation. It's heart-shaped leaves are slightly rounded, giving a bright and lively look to its surroundings. It will make a superb addition to your outdoor displays. In midsummer, when the bell-shaped, lavender blooms appear, it provides even more interest and impact to the area.
GROWTH:
Some variety of hosta can get up to 48 inches tall and 6ft wide! These flourishing full plants are definitely eye-catching.
CARE:
All hostas need some shade and few, if any, will do well in strong direct sunlight. They will fully mature in four to eight years. For the best care of hostas, plant them in rich organic soil with a slightly acidic pH.
FUN FACT:
Hosta, also known as plantain lily, is a genus of about 40 plants native to Eastern Asia.
PRODUCT:
All our plants are shipped fresh directly from our greenhouse to you!
GIVING BACK:
Giving back is important to us, so 25% of all profits go to supporting various organizations!
Amazing Plant Shape:
The Hosta is a beautiful plant with tremendous leaves and fine, sligthly scenting flowers on a long flower stem. The Hosta covers quite some space with its leaves, which is good for preventing weeds.
Hosta, A plant that is simply beautiful
Hostas are low-growing, clump-forming perennial plants with lovely foliage, with hundreds of varieties available in a wide range. There are so many sizes, heights, textures, and colors! Plus, they work in many kinds of gardens (patio, border, container, rock).
Basics:
| | |
| --- | --- |
| Zones | 3-9 |
| Flowering season(s) | Fall |
| Sunlight | Partial shade,Shade |
| Soil type | Well draining soil |
| Height/Spread | 10" Tall by 6" Wide |
| Flower Color | Green |
| Bloom Time | Spring,Fall |
How to plant & care for Hosta
The United States Department of Agriculture (USDA) has devised a system to provide gardeners with a basic guide to plant hardiness – how much winter cold a plant can withstand. The Hardiness Zone Map system divides the United States and Canada into numbered zones based on lowest average winter temperature. Even within a zone, different micro-climates exist, such as large urban areas which may be warmer or land situated at different elevations.

How Hardy Are These Plants?: Zones 3-9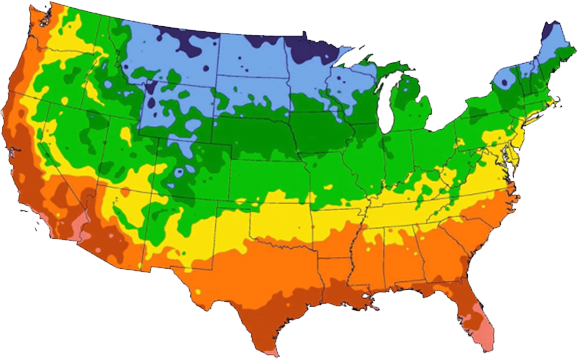 | ZONE | AVERAGE COLDEST TEMPS |
| --- | --- |
| 1 | below -50 °F |
| 2 | -50 °F to -40 °F |
| 3 | -40 °F to -30 °F |
| 4 | -30 °F to -20 °F |
| 5 | -20 °F to -10 °F |
| 6 | -10 °F to 0 °F |
| 7 | 0 °F to 10 °F |
| 8 | 10 °F to 20 °F |
| 9 | 20 °F to 30 °F |
| 10 | 30 °F to 40 °F |
| 11 | above 40 °F |
...
...