When you smell the rich scent of the Hyacinth, you know spring really has arrived. Buy it forced and you're guaranteed success in your garden and on your patio. Hyacinthus is the Latin version of the Greek name Hyakinthos.  According to Greek myth, the sun god Apollo was in love with Prince Hyakinthos. During a display of discus-throwing, Hyakinthos was accidentally fatally injured by Apollo, and the Hyacinth grew out of his blood.CARING FOR HYACINTHS 
Hyacinths can be placed in either a sunny or shady spot.
The cooler the plant, the longer it will flower.
Hyacinths need little care in the garden.  All you need to do is keep the soil damp: all the nutrients are in the bulb.
Ensure good drainage in pots, containers, planters and baskets so that the bulb doesn't rot.
Curly Flowers:
Curly flowers in sparkling spring colours
Spring & Plant Size:
8-10" From bottom of the pot to top of the plant.
Fresh From The Greenhouse:
delivered direct from our greenhouse, where our plants are grown Year Round under ideal conditions for maximum quality.
Ship stage:
in order for you to have the maximum experience with your fresh product, All plants will be shipped showing some color, but also with lots of healthy buds ready to give more Color through
Replacing:
We are so confident that you will love your herbs that if you are unsatisfied with the quality of the product upon arrival or within 7 days of receiving them, we will replace your herbs fr
Giving Back:
Giving back is important to us, so 25% of all profits go to supporting various organizations!
We are confident that you will love your plants. Contact us, if you have any questions about your order or have any issues with your plants.
Hyacinth, A plant that is simply beautiful
Bulbs are perhaps one of the most valuable and productive friends a flower gardener can have. Cared for properly, they seem to automatically provide life and color in a bleak landscape after a hard w
Basics:
| | |
| --- | --- |
| Zones | 4-8 |
| Flowering season(s) | Spring |
| Sunlight | Full sun,Partial shade |
| Soil type | Well draining soil |
| Height/Spread | 10" Tall by 7" Wide |
| Flower Color | Purple |
| Bloom Time | Spring,Winter |
How to plant & care for Hyacinth
The United States Department of Agriculture (USDA) has devised a system to provide gardeners with a basic guide to plant hardiness – how much winter cold a plant can withstand. The Hardiness Zone Map system divides the United States and Canada into numbered zones based on lowest average winter temperature. Even within a zone, different micro-climates exist, such as large urban areas which may be warmer or land situated at different elevations.

How Hardy Are Chrysanthemums?: Zones 4-8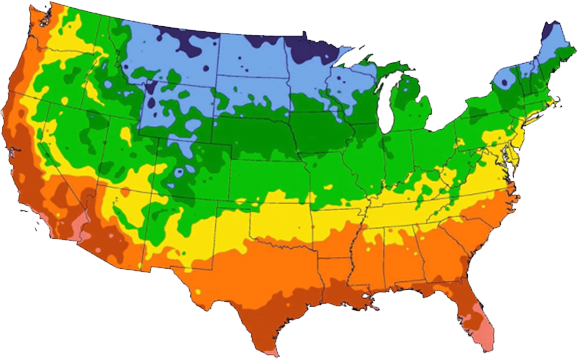 | ZONE | AVERAGE COLDEST TEMPS |
| --- | --- |
| 1 | below -50 °F |
| 2 | -50 °F to -40 °F |
| 3 | -40 °F to -30 °F |
| 4 | -30 °F to -20 °F |
| 5 | -20 °F to -10 °F |
| 6 | -10 °F to 0 °F |
| 7 | 0 °F to 10 °F |
| 8 | 10 °F to 20 °F |
| 9 | 20 °F to 30 °F |
| 10 | 30 °F to 40 °F |
| 11 | above 40 °F |
...
...